6Kuehlers Miniature Cattle Ranch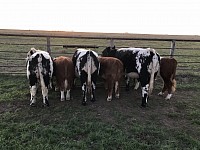 Welcome to Our Ranch!
Our farm is located in a small little town in the Texas Panhandle, east of Amarillo.While 6Kuehlers Ranch is a 4th generation farm, the decision to raise miniature cattle was made in 2017 after three years of research. Our farm has been in the family for over 100 hundred years and is home to our Miniature Herefords, British Whites, American Aberdeens (Lowline Angus), Belted Galloways, Pandas and our guard llama, Elmo.
Our Goals
Humanely raised pasture grazed Texas beef
To give our cattle the best quality of life
To get each animal used to human interaction
To create a good bond with our customers and answer any questions they may have
Hope to see you soon!
We hope you enjoy your visit to our website and come visit us in real life too!. Check out our About Our Ranch page. If you're interested in buying some click on our Sale Barn tab. You can email, text or call.  If you emailed and have not gotten a response, please text. Sometimes technology doesn't always work right. 806-679-4639